In this topic, i will going to show you how to use Bounce app to book bike for rent.
Bounce by metrobikes, is India's first smart urban mobility solution, with a mission of making daily commute stress-free, time-saving, reliable and convenient.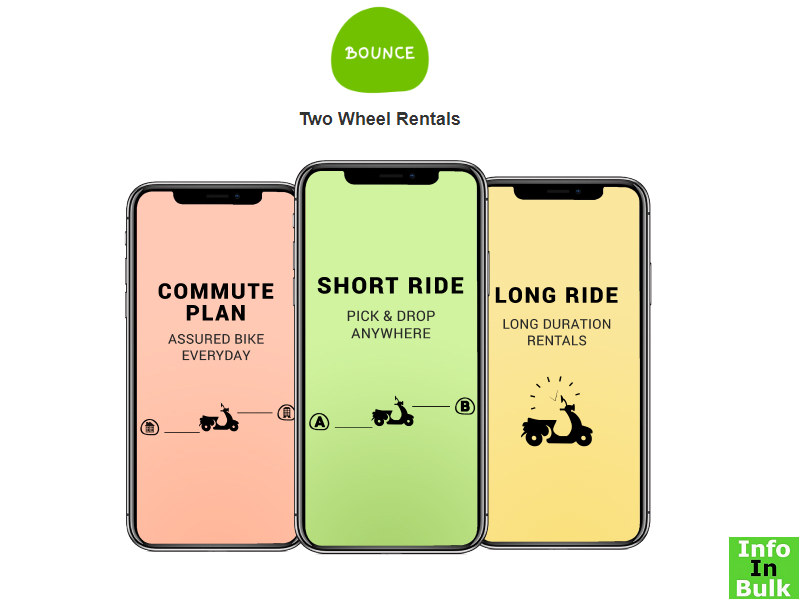 Bounce offers you Three plans:
1. Short Ride- point to point city rides – You can pick up and drop the bike anywhere you want to for short one-way rentals at Rs. 5/KM + Rs 0.5/min.
2. Long Rides – hourly, daily, weekly or monthly rentals. – You can rent bikes for longer duration on a daily, weekly or monthly basis at a very reasonable price starting as low as Rs 15 per hour & Rs 199 per day. You can pickup vehicle at selected locations, which is Hassle-free.
3. Commute Plan– This is a subscription plan, where you will get an assured bike from the Metro Station (37 metro stations across Bangalore) which you can take it to your office/home and be charged just for the distance and not for the time i.e Rs.3/KM. Fuel, insurance and Helmet all are inclusive.
1. Customer books through BOUNCE app.
2. Locate the nearest bike for the booking.
3. Confirm booking.
4. Enter OTP & RIDE.
How to Download and use the Bounce App?
Step 1: Download and install the Bounce App in Google Play store / iTunes- Apple app store.
Step 2: Login using mobile number, complete your profile by uploading front & back photo copies of driving license and your selfie.
Step 3: Locate & select the nearest Bike and press Pickup.
Step 4: Enter Destination location which displays ETA screen with distance, time and amount.
Step 5: Confirm Pickup.
How to use Bounce bike?
Step 1: Once you confirm booking, you will receive 4-digit OTP and along with that you will have Navigation option to locate the bike.
If you need any help from bounce team, you can click on HELP.
Step 2: As soon as you reach to your bounce vehicle, you need to press ( # + OTP)
Step 3: Press the trunk button to take out the helmet.
Step 4: Self start the bike.
How to operate Bounce bike?
Start Trip – Press ( # + OTP)
Engine Off – Press (# + Engine)
Pause Trip – Press ( # + Pause) (Turn handle to the left)
End Trip – Press ( # + End) (Turn handle to the left)
Note:
1. Please pickup the bike within the 20min or else your booking will be cancelled.
2. You will also receive SMS with link to vehicle documents like RC document and Vehicle Insurance.
3. If you run out of Fuel, then you can refuel from the nearest Fuel station.Send the bill to Customer-support@bounceshare.com. Bounce team will refund the amount to your Bounce wallet.